Best Smart Locks for Seniors in 2024 – Top 5
As we advance into 2024, smart home technology continues to evolve, offering greater convenience and security to users. Seniors, in particular, stand to benefit significantly from these advancements. With a focus on features that promote ease of use, reliability, and peace of mind, the latest generation of smart locks is designed to meet the unique needs of the elderly. In this connected era, where the simplicity of technology enhances the quality of daily living, choosing the right smart lock can have a profound impact on the independence and safety of seniors.
The market now offers a multitude of smart locking systems, each promising to blend seamlessly into the lives of senior citizens. But which ones truly cater to the needs of an aging population? In the following article, we list the best smart locks for seniors, considering the crucial aspects of operation, security, and technical support that will make their lives easier and safer.
Join us as we explore the top smart locks that have been specifically praised for their senior-friendly features in 2024. From locks with simple touchpads and voice activation to those that integrate flawlessly with existing home automation systems, we aim to guide you through the myriad of options available on the market. Whether you're a senior living independently, a loved one, or a caregiver, this article will help you understand the available choices and decide on the best smart lock for a senior's home.
If you are looking for an informative guide on smart locks for seniors please checkout our other article here: Smart Locks for Seniors Top Informational Guide 2024.
What are the best smart locks for Seniors in 2024?
In 2024, the best smart locks for seniors are those that deliver on the promise of security without sacrificing usability. The ideal smart locks for this year have evolved to offer enhanced features such as improved battery life, more intuitive user interfaces, and seamless integration with other smart devices. They also prioritize accessibility, with options like voice guidance, larger, bold displays, and straightforward physical controls. With the rise of AI and machine learning, some of the top contenders also include predictive analytics to alert users about potential security risks proactively. These locks not only protect against unwanted entry but also adapt to the routines and preferences of their users, making them a top choice for seniors seeking convenience and safety in their living spaces.
Affiliate Disclosure: Some of the links in this review are affiliate links, which means that if you click on them and make a purchase, we may receive a small commission. This comes at no additional cost to you, and it helps fund our research and writing team. Please know that we only recommend products that we believe will add value to our readers.
#1 NICE DIDI Smart Door Lock For Seniors
Best Smart Locks for Seniors in 2024 – Top 5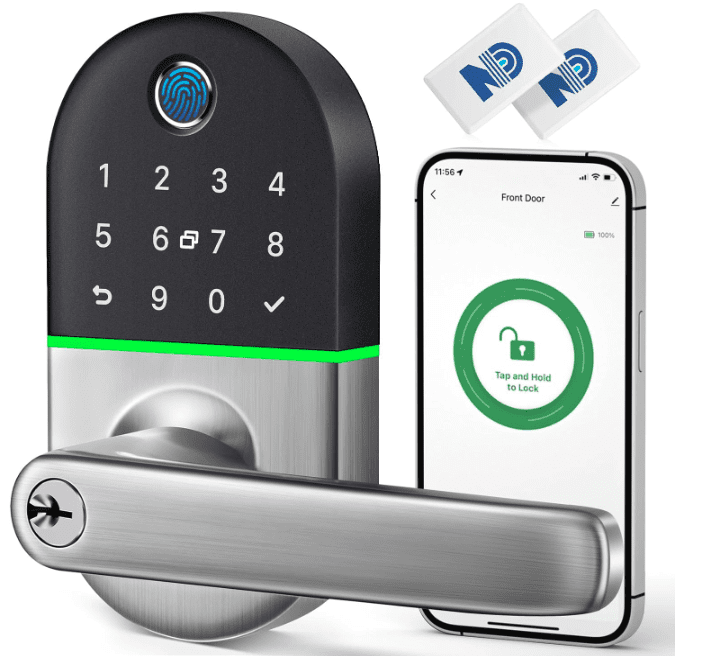 Overall Top Pick!
Smart home technology has been revolutionizing the way we manage our household, and smart locks have been at the forefront of this movement. Today, we're looking at a product that promises to blend convenience, security, and simplicity into one: the Smart Door Lock with Handle available on Amazon.
Ease of Installation and Setup
One of the most daunting aspects of smart home technology can be the installation process. However, this smart door lock mitigates that concern with an easy installation process that is well-documented and can be performed with basic DIY skills. The lock comes with a clear, step-by-step manual and also offers video guides accessible via a QR code.
Design and Features
Centered around user experience, the design of the smart door lock is sleek and modern, which should complement most door aesthetics. It has a touchscreen keypad that illuminates for easy access in the dark and a handle that feels sturdy and smooth to operate. The lock's ability to store multiple access codes and its compatibility with emergency power supply are notable features that enhance its usability.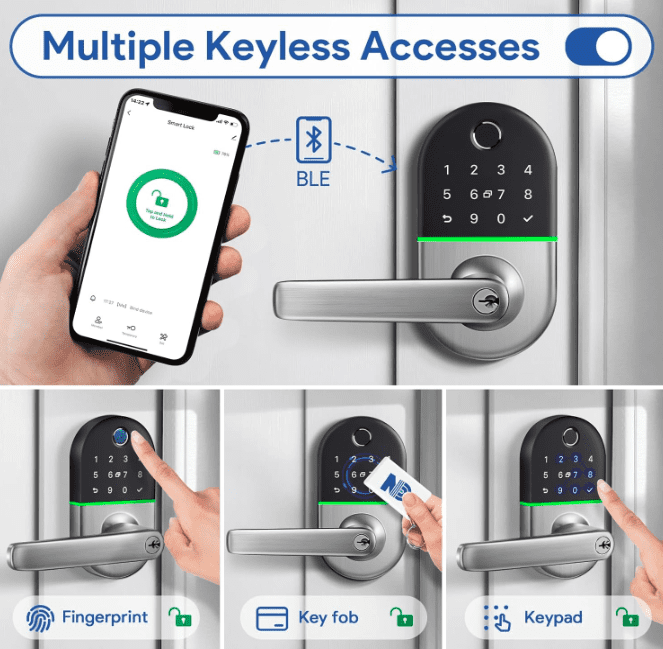 Performance and Reliability
In terms of performance, the lock responds swiftly to code entry and remote actions via its app. The mechanical key override is a failsafe that ensures you're never locked out. The lock's motor is quiet, and its battery life is commendable, with notifications sent to your phone well before the batteries need replacing.
Security
Security is a primary concern for any lock, and this smart lock addresses it with features like built-in alarm systems that alert you to attempted break-ins and an auto-lock function that can be customized to your preferences. It does not integrate directly with home automation systems like Z-Wave or Zigbee, which could be a drawback for users heavily invested in smart home ecosystems.
User Experience
For seniors or those who are not tech-savvy, the lock's simplicity is a major plus. It offers various entry methods, including codes, app control, and traditional keys, catering to different comfort levels with technology.
Comparison with Competitors
When compared to other smart locks, this model stands out for its simple installation and user-friendly interface. However, competitors might offer more integration with smart home systems and better material quality. The price point is reasonable for its feature set, positioning it well in the market.
Pros and Cons
Pros:
Easy to install and set up with useful instructions.
Multiple access methods cater to different user preferences.
Long battery life with low-battery notifications.
Mechanical key override ensures you're never locked out.
Cons:
Limited integration with broader smart home systems.
The build quality may not match up to some higher-end competitors.
Verdict
This smart door lock is an excellent choice for those who value ease of use and installation over integration with complex smart home systems. It's reliable, user-friendly, and offers a good level of security, making it suitable for a wide range of homes, particularly for senior users or those new to smart home technology.
For more detailed information and purchasing options, you can visit the product page on Amazon.
#2 Zowill Smart Door Lock For Seniors
Best Smart Locks for Seniors in 2024 – Top 5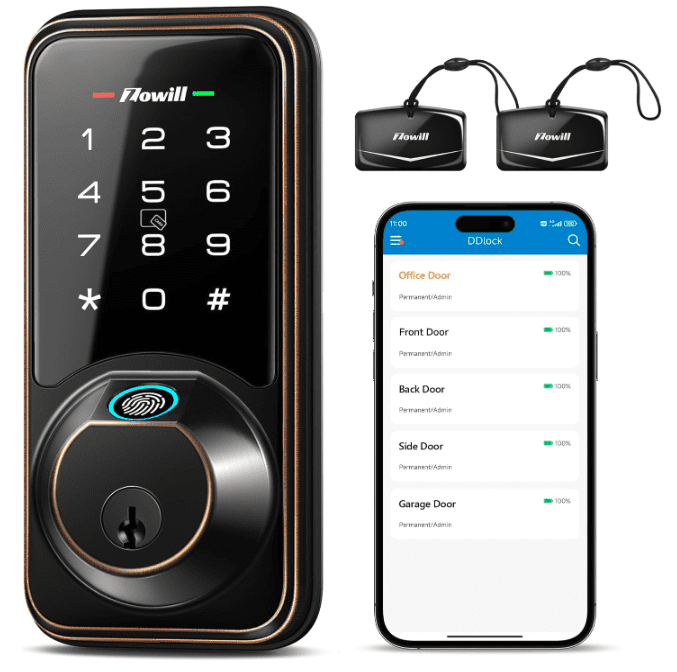 Amazon's Choice!
In the evolving landscape of smart home security, the Zowill Fingerprint Smart Deadbolt emerges as a contender that aims to offer enhanced security and convenience. Below, we'll explore this product's features, performance, and overall value proposition.
Installation and User-Friendly Design
The Zowill Fingerprint Smart Deadbolt is designed with the user in mind, featuring a straightforward installation process complemented by a detailed instruction guide. This smart lock is suitable for people who prefer a minimalistic approach without compromising on functionality. Its sleek, black interface and compact design add a modern touch to any door.
Innovative Access and Enhanced Security
This device takes security to the next level with its fingerprint recognition technology, ensuring that only registered users can gain access. Besides the fingerprint, it offers multiple ways to unlock, including a touchscreen keypad, traditional keys, and via a mobile app. Its built-in alarm system is a robust security feature that detects potential door tampering.
Performance Metrics
The lock's responsiveness to fingerprint recognition is impressive, registering entry within seconds. The touchscreen keypad is responsive and visible in low light conditions. Users can manage access codes and track entry logs through the app, which is an invaluable tool for monitoring home security.
Smart Integration and Battery Life
While Zowill's product integrates with smart home assistants for voice commands, it may lack compatibility with certain smart home standards, which could be a limiting factor for some users. Nevertheless, the lock's long-lasting battery life, coupled with a power-efficient design, ensures uninterrupted operation.
Special Considerations for Seniors
For senior users, the quick-finger access and the option for remote unlocking via the app provide a seamless experience. The big, clear numbers on the pad and the simple interface of the app ensure it is senior-friendly.
Market Position and Competitiveness
Compared to the market leaders, Zowill's smart lock is priced competitively, offering advanced features without a hefty price tag. Its unique selling proposition lies in the balance between advanced technology and user-centric design.
Pros and Cons
Pros:
Fingerprint recognition for quick and secure access.
Diverse unlocking mechanisms to suit all preferences.
Easy to install with clear instructions.
Competitive pricing.
Cons:
May not integrate with all smart home systems.
Limited color options may not suit all door designs.
Conclusion
The Zowill Fingerprint Smart Deadbolt is a robust and reliable option for those seeking a high-tech, user-friendly smart lock. Its blend of security features and ease of use makes it a solid choice, especially for seniors or those less familiar with smart home technology.
To consider this smart deadbolt for your home, you can view it on Amazon.
#3 ULTRALOQ Keyless Smart Lock For Seniors
Best Smart Locks for Seniors in 2024 – Top 5
Most Popular & High Rating!
Smart locks are increasingly becoming a staple in modern homes, and the ULTRALOQ Keyless Smart Lock is a product that stands out for its biometric efficiency and connectivity features. Here's an in-depth look at what this lock brings to the table.
Simple Installation and User Interface
The ULTRALOQ Smart Lock emphasizes a stress-free setup, with a well-illustrated manual that guides you through a quick installation. This simplicity extends to its user interface, which is intuitive and accessible, featuring a sleek touchscreen that complements its user-friendly experience.
Biometric Technology and Security
At the heart of ULTRALOQ's offering is its advanced fingerprint technology that provides quick and secure access without the need for keys. The lock also supports anti-peep passwords, meaning you can enter random digits with your correct password to prevent others from gleaning your access code.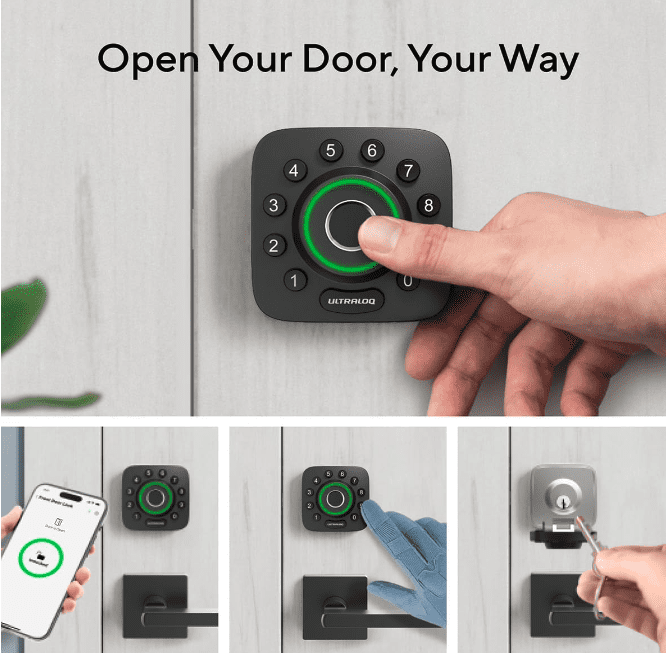 Connectivity and Smart Features
This smart lock is app-enabled, allowing for remote access, entry tracking, and eKeys for guest access, which are a boon for managing a property. It offers Wi-Fi connectivity, enabling integration with smart home assistants for voice control and real-time alerts.
Durability and Battery Life
Constructed with a robust zinc alloy, the ULTRALOQ lock promises durability. The device operates on a long-lasting battery, and its low-battery alerts ensure you're always informed about the need for a battery change, minimizing the risk of being locked out due to power loss.
Considerations for Senior Users
The one-touch fingerprint access is particularly convenient for seniors, offering a no-fuss entry method. Moreover, the option for remote unlocking and temporary passcodes can give caregivers and family members peace of mind regarding accessibility and security.
Competitive Analysis
In the crowded smart lock market, ULTRALOQ competes by offering a blend of security, convenience, and advanced features at a mid-range price. Its direct competition may offer more streamlined smart home integration or superior materials, but ULTRALOQ's price-to-feature ratio holds strong.
Pros and Cons
Pros:
High-speed fingerprint recognition.
Remote access and guest management via the app.
Voice control through smart home integration.
Robust build and proactive low-battery notifications.
Cons:
May require a separate Wi-Fi bridge for some functionality.
The design might not appeal to all aesthetic preferences.
Final Thoughts
The ULTRALOQ Keyless Smart Lock is a forward-thinking device that marries convenience with modern security measures. It's an excellent option for those looking for a reliable and technologically advanced lock system, especially suitable for senior users due to its straightforward operation and remote management capabilities.
Explore more about this smart lock and consider it for enhancing your home security by visiting the product's Amazon page.
#4 Hornbill Smart Lock For Seniors
Best Smart Locks for Seniors in 2024 – Top 5
Sleek Design
The Hornbill Smart Lock is designed for homeowners seeking a blend of innovation, aesthetic appeal, and security. With its keyless entry system and sophisticated design, this product aims to cater to a modern lifestyle. Let's evaluate its features and performance.
Installation and Accessibility
The Hornbill Smart Lock arrives with all the necessary components for a DIY installation, and users report that the setup process is straightforward. The package includes a detailed instruction guide, and there's customer support for any additional help needed. This attention to accessibility in installation is a positive start for the product.
Functionality and Design
The lock boasts a sleek, capacitive touchscreen for keyless entry and an ergonomic handle that feels secure and comfortable to grip. Its contemporary design with a satin finish fits seamlessly with various door styles. The lock offers multiple entry methods, including passcodes, smartphone access via Bluetooth, and physical keys as backups.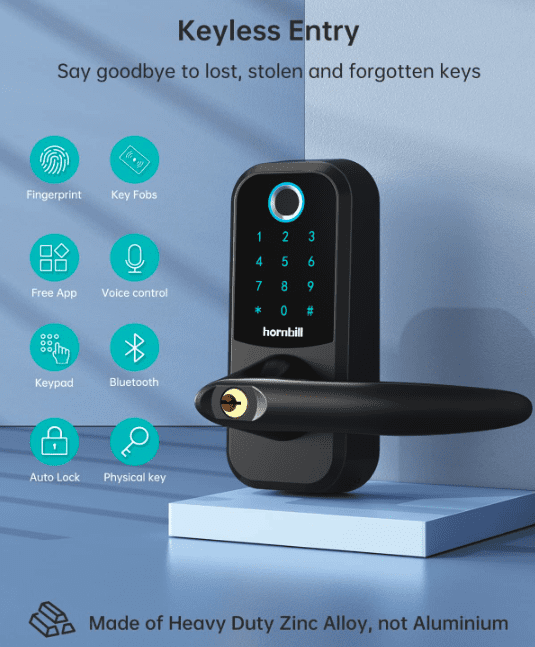 Security Measures
Security is a high priority for the Hornbill Smart Lock, featuring built-in siren alarms for break-in attempts and a privacy lockout mode that disables all outside input for added safety. It also supports generating temporary or one-time use codes, which can be convenient for granting access to visitors or service personnel.
Smart Home Compatibility
Though it's equipped with Bluetooth, the lock does not natively support Wi-Fi or Z-Wave, which means integration with broader smart home systems requires an additional gateway. However, the Bluetooth functionality allows for remote access within a certain range and the ability to manage access through the app.
User Experience for Seniors
This product is particularly user-friendly for senior citizens, with an easy-to-read touchscreen and simple app navigation. The flexibility of entry methods means that users can choose the most convenient option for them, reducing potential frustration associated with newer technologies.
Competitive Positioning
In a competitive market, the Hornbill stands out for its balance of style and substance. While it may not offer the wide smart home integration some competitors do, its design and security features make it a compelling choice, especially given its reasonable pricing structure.
Pros and Cons
Pros:
Multiple entry methods, including code, app, and key.
Easy to install with excellent customer support.
Stylish design that complements modern homes.
Advanced security features with siren alarm and privacy mode.
Cons:
Limited integration with smart home systems without an additional purchase.
Bluetooth range may not be sufficient for all users' needs.
Summary
The Hornbill Smart Lock is a solid choice for anyone looking to enhance their door security with smart technology. It strikes a fine balance between ease of use and modern security needs, making it an excellent option for everyday convenience, particularly for seniors or those new to smart home technology.
For further details and to consider this smart lock for your home security setup, you can check it out on Amazon.
#5 AppLoki Bluetooth Smart Lock For Seniors
Best Smart Locks for Seniors in 2024 – Top 5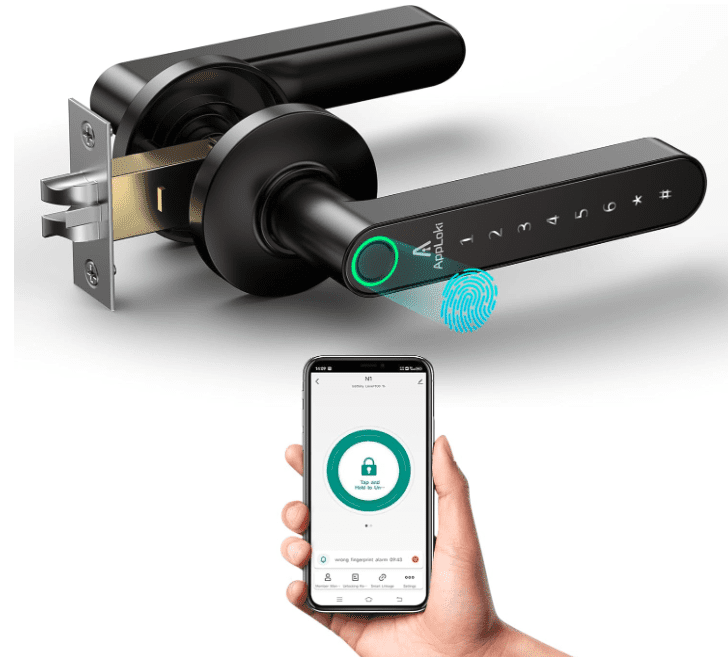 Best Budget Friendly
As the demand for smart home security increases, products like the AppLoki Bluetooth Smart Lock are gaining attention for their advanced features and user-centric design. This lock promises to offer both security and convenience with its innovative access methods. Here's what you need to know about it.
Installation and Ease of Use
The AppLoki Smart Lock is marketed with a user-friendly setup process, complete with a reversible handle that suits both left and right-handed doors—a thoughtful feature for versatility in installation. The lock comes with a comprehensive manual and is designed to fit most standard doors without the need for drilling additional holes.
Design and Accessibility
Sporting a minimalist design, the AppLoki lock has a clean and modern look with a fingerprint-resistant touchscreen. The interface is straightforward, providing hassle-free access via fingerprint, passcode, or Bluetooth connection. The reversible handle design not only aids in installation but also in ensuring it fits a variety of door orientations.
Advanced Biometric Security
Biometric security is a standout feature of this lock, offering quick and accurate fingerprint recognition. It stores multiple fingerprints, allowing for secure, keyless entry for family members and trusted visitors. The ability to create temporary passcodes and eKeys adds a layer of convenience for managing access for guests or service providers.
Connectivity and Control
With Bluetooth technology, users can manage the lock remotely via a smartphone app within the Bluetooth range. It also provides a log of who has accessed the lock and when, which is a valuable feature for monitoring home security. However, it lacks Wi-Fi connectivity or integration with broader smart home networks out of the box.
Senior-Friendly Features
The AppLoki lock is designed with simplicity in mind, making it especially appealing to senior users. The fingerprint access eliminates the need to remember codes or carry keys, and the touchpad is easy to operate. Additionally, the app's interface is intuitive, making remote management straightforward for users of all ages.
Market Comparison and Affordability
In comparison to similar products, the AppLoki Smart Lock holds its own with a competitive price point and robust feature set. Its emphasis on secure, biometric access positions it well against other locks that may not offer fingerprint technology at this price.
Pros and Cons
Pros:
Quick fingerprint access for efficient entry.
No complex wiring needed for installation.
Offers temporary eKeys and access codes.
Reversible handle for versatile door installation.
Cons:
No native Wi-Fi or smart home system connectivity.
Limited by Bluetooth range for remote control.
Conclusion
The AppLoki Bluetooth Smart Lock is an excellent option for those prioritizing quick, secure entry with the convenience of smart technology. Its user-friendly design and biometric access make it a compelling choice for families and particularly senior individuals. While it may not offer extensive smart home integration, it stands as a reliable and accessible security solution.
Discover more about this smart lock and see if it fits your security needs by visiting the Amazon listing.
Best Smart Locks for Seniors in 2024 – Top 5 Conclusion
In conclusion, our review of the top smart locks for seniors in 2024 has covered a range of products that excel in ease of use, installation, security features, and user-friendly design. Each lock reviewed offers unique benefits suited to various needs and preferences, from advanced biometric features to simple, robust mechanical operations. Whether you prioritize high-tech integration, aesthetic appeal, or straightforward functionality, there is a smart lock on this list that will meet your requirements.
As technology progresses, the importance of choosing a product that balances innovation with simplicity becomes paramount, especially for senior users. The key to a satisfactory purchase lies not just in the product's features but also in its ability to enhance daily life with minimal fuss.
For seniors or their loved ones looking to upgrade home security with smart technology, the options we've explored present a compelling array of choices. Remember to consider not only the lock's features but also the after-sales support and compatibility with other devices in the home. With the right smart lock, enhanced security, convenience, and peace of mind are just a keyless entry away.