How to Stream TV for Seniors: #1 Simplified Guide
Introduction to How to Stream TV for Seniors
Streaming TV has revolutionized the way we consume media, offering a vast library of on-demand content accessible at the touch of a button. For seniors, navigating this new landscape may seem daunting, but with the right guidance, it can be both enjoyable and simple. This article aims to demystify the process of streaming TV for seniors, outlining the steps, tips, and tricks to get started with ease.
Understanding Streaming TV
Before diving into the "how-to," it's essential to understand what streaming TV is. Streaming is the transmission of audio and video over the internet to a computer, mobile device, or TV, allowing you to watch live events and on-demand content without a traditional cable or satellite TV subscription.
Benefits of Streaming TV for Seniors
Cost-Effective: Often cheaper than traditional TV services.
Variety of Content: Access to a wide range of shows, movies, and live events.
On-Demand: Watch what you want, when you want, without adhering to a TV schedule.
User-Friendly: With smart TVs and streaming devices, ease of use is prioritized.
Necessary Equipment for Streaming
To begin streaming, you'll need a few basic items:
A Reliable Internet Connection: A broadband internet connection is crucial.
A Streaming Device: This can be a smart TV, a streaming stick like Roku or Amazon Fire Stick, or a gaming console.
A Subscription to a Streaming Service: Services like Netflix, Hulu, or Amazon Prime Video offer various programs and movies.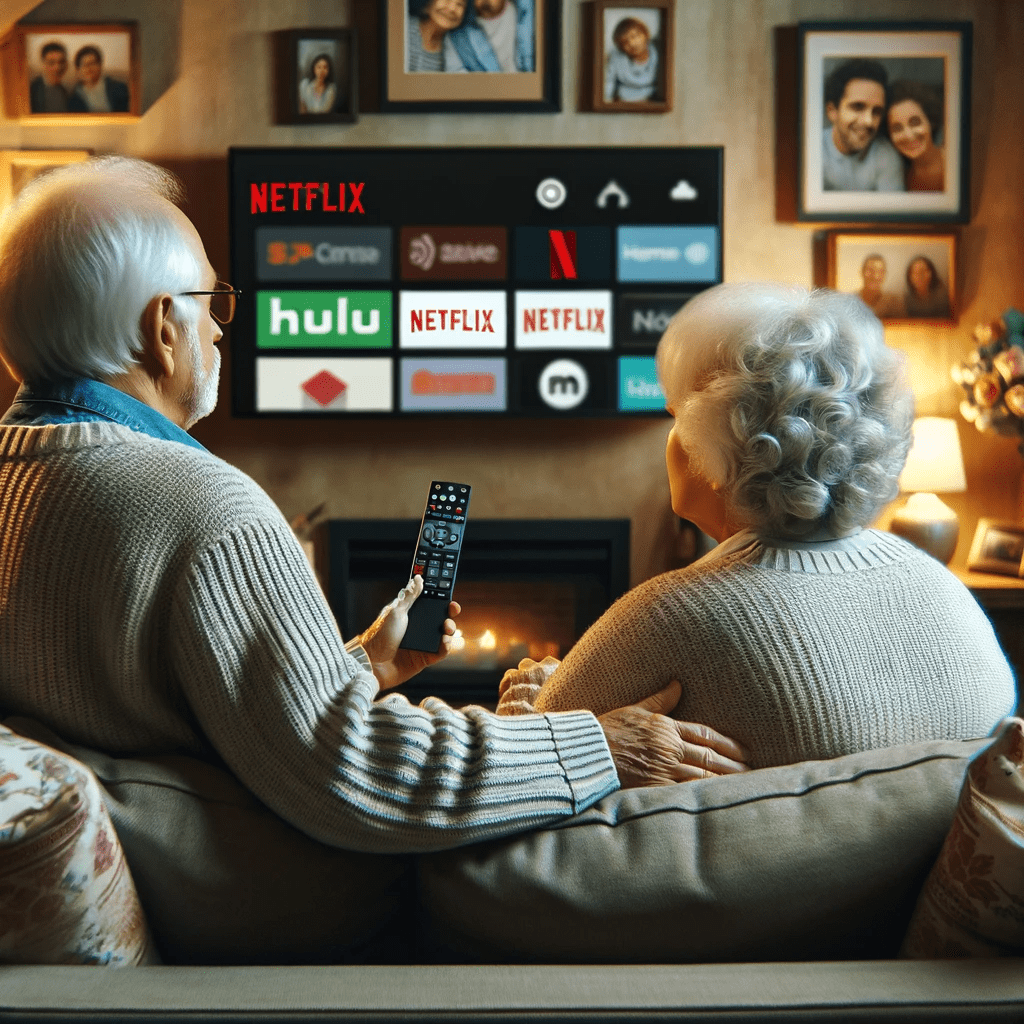 Step-by-Step Guide to Start Streaming for Seniors
Step 1: Set Up Your Streaming Device
Streaming technology has revolutionized the way we consume television and movies, offering more convenience and a vast selection of content at our fingertips. Seniors, in particular, can find immense value in streaming services, which provide easy access to a wide range of programming without the need for physical media or traditional broadcast schedules. Here's how to begin:
Smart TVs
If you have a Smart TV, you're already halfway there. Smart TVs come with built-in internet connectivity, allowing you to download streaming apps directly to your television:
Connecting to the Internet: Use the TV's remote to navigate to the settings menu, where you can find network options. You can choose to connect via Wi-Fi or, for a more stable connection, use an Ethernet cable to connect directly to your router.
Downloading Apps: Once online, visit your TV's app store to download streaming services like Netflix or Hulu. Most Smart TVs come with pre-installed popular apps as well.
Streaming Sticks/Boxes
Devices like Roku, Amazon Fire Stick, or Apple TV are excellent for turning any TV with an HDMI port into a Smart TV:
Installation: Plug the streaming stick into your TV's HDMI port and switch the TV's input to the corresponding HDMI channel.
Wi-Fi Connection: Follow on-screen instructions to connect the device to your home Wi-Fi network. You may need to enter your Wi-Fi password using the remote provided with the streaming stick.
Gaming Consoles
Modern gaming consoles like the PlayStation and Xbox are not just for gaming; they also serve as complete entertainment systems:
Built-in Apps: Consoles come with a suite of streaming apps. You can find these in the console's main menu and download any additional ones from their respective stores.
Internet Connection: Connect your console to the internet through Wi-Fi or an Ethernet cable, similar to a Smart TV.
Step 2: Choose Your Streaming Services
The next step is selecting the streaming services that best fit your interests and budget:
Free Services
For those on a fixed income or looking to save money, ad-supported services offer a great way to enjoy TV shows and movies at no cost:
Crackle or Tubi: These platforms provide a range of older movies and shows, with some newer content mixed in. Just sign up, and you're ready to watch.
Premium Services
To access the latest releases and exclusive content, premium services are the way to go:
Netflix, Hulu, Amazon Prime: They offer extensive libraries of movies, original programming, and TV shows. These services require a monthly subscription, which you can usually cancel at any time.
Special Interest Services
For those with specific tastes or hobbies, niche streaming services provide content catered to particular interests:
BritBox: A haven for British television enthusiasts.
Kanopy: Offers educational and thought-provoking content, often free through university or library memberships.
Step 3: Navigate Your Streaming Service
Once you've chosen your services, it's time to explore and use them:
Creating an Account
Sign up on the service's website or through their app, providing your email and creating a secure password.
Browsing Content
Use the remote to enter the app and navigate using the "search" function or browse through the various categories and genres.
Customizing Your Experience
Most services allow you to create a personal watchlist and offer recommendations based on your viewing history.
Tips for a Better Streaming Experience
Use a Large Screen: Larger screens provide a more immersive experience and are easier on the eyes.
Learn the Remote: Take time to understand the buttons and functions of your remote control or streaming device interface.
Adjust Settings: Personalize your audio and subtitle settings. Many services offer audio descriptions and closed captions for the hearing impaired.
Troubleshooting Common Issues
Buffering: This can often be resolved by improving your internet connection or by lowering the streaming video's quality settings.
Technical Glitches: If you experience continuous problems, try restarting your device or reinstalling the problematic app.
Following these steps, you can enjoy a seamless and enjoyable streaming experience. If you run into any issues, don't hesitate to ask a family member for help or consult the service's customer support. Streaming is a wonderful resource, ensuring that entertainment is just a few clicks away.
Conclusion
Streaming TV is a convenient and user-friendly way to watch your favorite programs. With a bit of setup and learning, you can enjoy a world of entertainment at your fingertips. Remember, patience is key, and with practice, streaming will become second nature.
Conclusion to How to Stream TV for Seniors
Embracing new technology like streaming TV can open up a new world of entertainment and convenience for seniors. With this guide, we hope to have provided the information and confidence needed to take that step. Remember to take things at your own pace, ask for help when needed, and enjoy the vast array of viewing options available to you.
Happy Streaming!
Remember, this guide is a starting point. Explore and ask family or friends for help if needed. Streaming services frequently update their interfaces and offerings, so stay curious and keep learning. With this foundation, you're well on your way to enjoying the benefits of streaming TV.
Additional Resources
For further assistance, consider visiting:
Top Streaming Services For Seniors
Top Streaming Devices for Seniors
Top Internet Service Providers for Seniors